ZTL to start work on Tees Quay Platform 
27 December 2022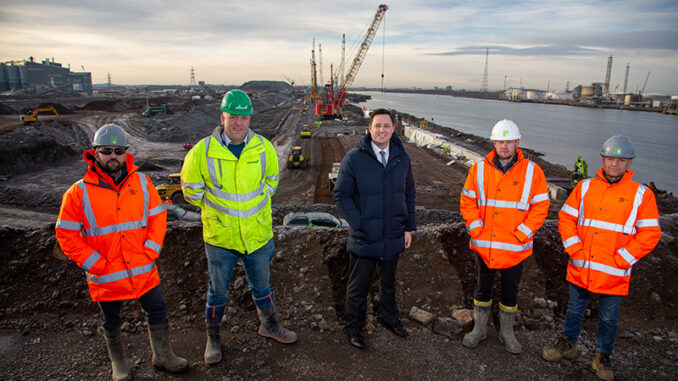 ZTL has been contracted to help create a huge 150,000-tonne platform for the vital South Bank Quay.
GRAHAM Construction brought in ZTL Contracting to re-engineer earthwork materials that would otherwise not be suitable for re-use. This is done by bringing earthworks together with a combination of lime and cement.
ZTL will use innovative cutting-edge techniques and specialist equipment for the works – with between 100,000 and 150,000 tonnes of material used which would otherwise have been sent to landfill.
Landside work at the South Bank Quay is due to be complete in summer of 2023, with planned completion of the entire project due ahead of schedule in late autumn 2023.
Visiting the site at its take-off, Tees Valley Mayor Ben Houchen said: "The ground-breaking work at South Bank Quay will unlock access to the River and the North Sea, which will open the door to thousands of jobs being created on the Teesworks site.
"This is another example of a great Teesside business being used on a game-changing project to support jobs in our region.
Work will see a Wirtgen Stabilisation Rig called into action. Materials are blended on site with lime and cement to create a viable engineering fill in a method which reduces the carbon footprint of the project by drastically reducing transport requirements.
ZTL commercial director Wayne Morris said: ''ZTL Contracting are pleased to have been awarded the South Bank Quay contract with GRAHAM.
"The scheme entails over 40,000m3 of crushing, screening and stabilising of materials that would otherwise be going to landfill.
"The scheme will employ local labour working out of our Middlesbrough Head Office, initially for three months.''
GRAHAM project manager Jonathan Martin added: "We're delighted to have appointed ZTL as a project partner on the South Bank Quay project and look forward to working with the team on progressing the construction of South Bank Quay.
"Progress at the South Bank Quay has been excellent so far and we recognise the importance of bringing local suppliers on board to the project, both to help realise our vision and reap the long-term benefits of this transformational scheme for the Teesside region."